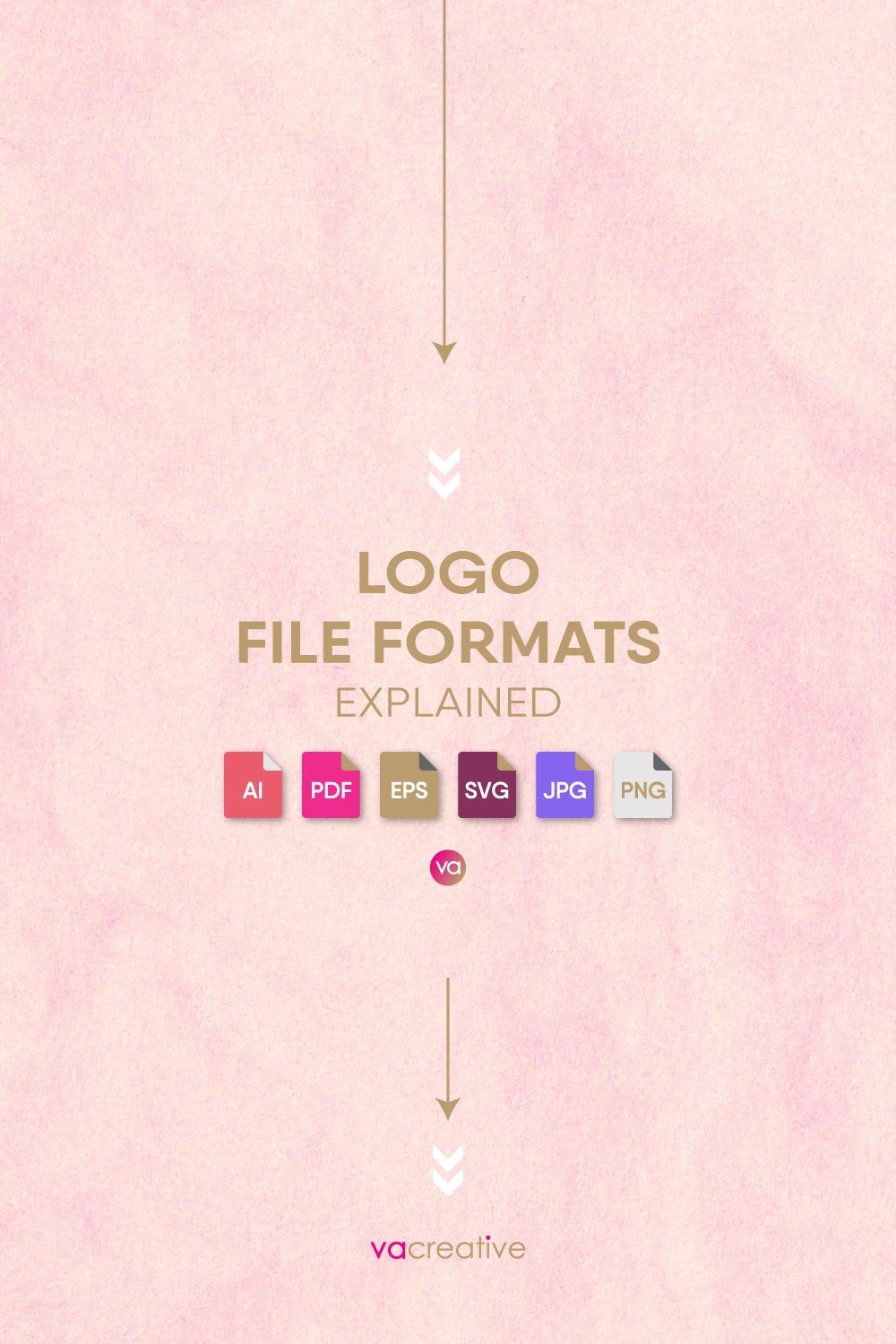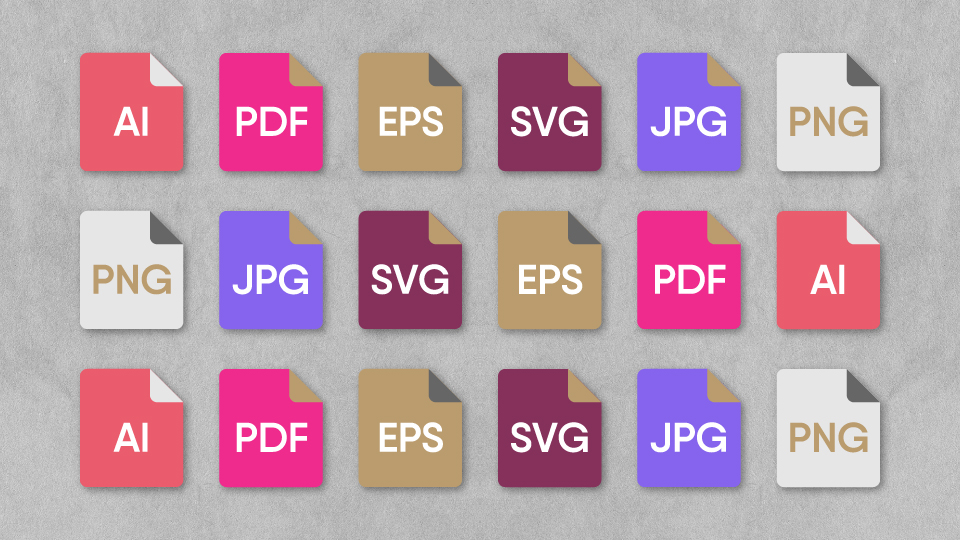 LOGO FILE FORMATS EXPLAINED
Before I get into more details about logo file formats in this blog post, please make sure you read what they stand for. I will be referring only the file extensions. See below their meaning:
LOGO FILE FORMATS MEANING
AI: ADOBE ILLUSTRATOR
PDF: PORTABLE DOCUMENT FORMAT
EPS: ENCAPSULATED POSTSCRIPT
SVG: SCALABLE VECTOR GRAPHICS
JPG: JOINT PHOTOGRAPHIC EXPERTS GROUP
PNG: PORTABLE NETWORK GRAPHICS
What is a FILE FORMAT?
A file format it is the structure of a file and the type of data stored in it. The file format communicates to the program how to display or process those data.
Programs that don't support certain file formats will not allow you tin import the file. In case you are able to import it in another program it might not include all the features or display that file precisely.
Example: You can import an .ai file to Corel Draw which supports .ai but there are some cases where some elements or effects will not be displayed correctly.
An AI file (Adobe Illustrator).ai is best viewed in Adobe Illustrator and so on.
AI: Adobe Illustrator. It is used for the creation of vector based graphics, drawings or illustrations.
AI supports various file formats like EPS or PDF.
PDF: Portable Document Format. It is used for presenting multiple elements as one flat piece. PDF can incorporate documents, text formatting, fonts, vector graphics, raster images and other information without the needing to provide or have the original source files.
EPS: Encapsulated PostScript. It is a graphics file format. It may contain 2D vector graphics, bitmap images, and text. EPS files also include an embedded preview image in bitmap format. A common format used for transferring image data between different operating systems.
SVG: Scalable Vector Graphics. It is a vector image format for two-dimensional graphics. SVG files are developed as a standard format for displaying vector graphics on the web.
SVG images and their behaviors are defined in XML text files. This means that every element and attribute in SVG files can be animated, searched, indexed, scripted, and compressed.
JPG: (or JPEG) Joint Photographic Group. It is a raster format often used for photographs or images on the web. JPG files are web friendly and most of them are typically smaller to load faster. A JPG doesn't support a transparent background. It is rectangular or square in shape with a solid background.
PNG: Portable Network Graphics. It is a raster-graphics file format that supports lossless data compression. PNG was developed as an improved replacement for Graphics Interchange Format (GIF). PNG supports transparent backgrounds.
Find more info here.

WHO IS IT FOR? (LOGO FILE FORMAT)
Client: .PDF .JPG .PNG
Designer: .AI .PDF
Developer: .SVG .JPG .PNG
Printers, Signmaker, Vendor: .AI .PDF .EPS
WHERE TO USE IT? (LOGO FILE FORMAT)
Print
.AI .PDF .EPS
Web
.SVG .JPG .PNG
WHY USE THIS?
.AI .PDF .EPS .SVG
It is Scalable.
WHY USE THIS?
.AI .PDF .EPS .SVG
It is Editable.
WHY USE THIS?
.PDF .JPG .PNG
It is Universal.
WHY USE THIS?
.AI .PDF .EPS .SVG .PNG
It is Transparent.

HAVE YOU READ MY PREVIOUS BLOG POST WHERE IS SPEAK ABOUT WHAT IS A HIGH AND LOW RES IN IMAGES. READ IT HERE.